Join the Defense Information Systems Agency at AFCEA TechNet Cyber for a three-day virtual experience.
From Dec. 1-3, DISA will convene virtually with mission and industry partners from across the Department of Defense and Federal government to address mutual topics of interest in information technology and cyber.
Keynote Speakers
Opening Keynote-Dec. 1
VADM Nancy A. Norton, USN
Director, Defense Information Systems Agency
Commander, Joint Force Headquarters-Department of Defense Information Network
Opening Workshop-Dec. 1
Tony Montemarano
Executive Deputy Director
Defense Information Systems Agency


Panel Host-Dec. 1
MG Garrett Yee, USA
Assistant to the Director
Defense Information Systems Agency


Knowledge Management Keynote-Dec.2
Tiffany Smith
Chief Knowledge Officer and
Information Technology Manager
NASA's Aeronautics Research Mission Directorate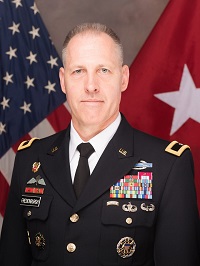 JFHQ-DoDIN Keynote-Dec. 2
BG Paul H. Fredenburgh, III, USA
Deputy Commander
Joint Force Headquarters-Department of Defense Information Network
Forecast to Industry – Dec. 3
Industry partners are invited to join us on the third day of the virtual event for DISA Forecast to Industry, where we present upcoming contracting opportunities with the agency.
This event is open to all registered TechNet Cyber attendees and will be free to industry partners only interested in attending Forecast to Industry.
To register for the event, visit: https://www.afcea.org/events/register.cfm?ev=576.
Theater Sessions
Topic based briefings that will bring conference attendees up to speed on the improvements and updates to capabilities that DISA provides for the warfighter will be available on-demand throughout the entire event.
Planned topics include:
Cloud
Cyber Layered Defense
Defense Enterprise Office Solutions
DoD Mobility
Electromagnetic Spectrum Operations
Fourth Estate Network Optimization
Identity Credential and Access Management
Internet Protocol version 6
Joint Interoperability Testing Command Overview
Network Improvements
Special Sessions
DoD and Federal Knowledge Management Community – Dec. 2
The DoD and Federal Knowledge Management community will convene on Dec. 2 for a half-day of sessions to discuss knowledge, information and data management topics of interest.
DoD Public Safety Communications – Dec.1-2
The DoD Public Safety Communications community will host special sessions to discuss this special Defense department mission space.
Meet with DISA
DISA Virtual Pavilion
Meet and chat with agency program managers and subject matter experts in the DISA Pavilion in the virtual exhibit hall.
Live Question and Answer Sessions
Participate in live sessions with agency experts.
Register Now!
The conference is free to registered government and military attendees.
All attendees must be registered for AFCEA TechNet Cyber